Welcome to Friday Frolics, the linky with the giggles. Friday Frolics is hosted by myself, Claire at Life, Love and Dirty Dishes, and Emma at Island Living 365. It's the place to link up your funny posts and snort your tea whilst enjoying some others.
Hope you're all getting into the swing of 2017, and having some funny experiences to share with us for Friday Frolics.
Thank you to everyone who linked up their fantastic funny posts last week.

Friday Favourites
My favourite post from last week: Mama Zen Blog – Christmas. I'm SO on it! Are you on top of the Christmas madness, or do you end up with green hair?? I think I am the latter, and don't even have school events to contend with yet!
Claire's favourite post: 'Daily Dump – Dear Kids… Meet Dad. This post is my life. Every single day! Why ask Daddy when you can ask Mummy!'
Emma's favourite post: 'Tales from Mamaville – Resolutions of a 2017 Parody. Brilliantly clever post that had me nodding along in agreement and chuckling away. I can only hope that I will be "as cool as those Paw Patrol pups" this year! However, I fear it will be more like chasing my tail.'

Most Read Post
Squirmy Popple – Why My Daughter Watches Paul Simon Instead of Peppa Pig

If you missed these posts last week, do check them out – guaranteed a laugh.
Friday Favourites writers: Please feel free to grab the Featured Blogger badge below.


I am looking forward to all the fun and frolics, but first for a couple of serious bits.
The Rules:
1. Make us laugh! Friday Frolics is all about the funny, so please no reviews, or how to make a finger puppet (unless, of course, they are hilarious).
2. Include the Friday Frolics badge in the post that you are linking. If you do not include the badge, you will not be eligible to feature as a Friday Favourite.
3. Comment on one of each of the hosts' posts, and at least one other post for every post you link up. Share the fun people! Use #FridayFrolics when you comment on posts so people can see where you are linking from.
4. You can link up to 2 posts, old or new.

Other Stuff:
By joining this linky, you consent to receiving e-mails from me about Friday Frolics.
Follow us on twitter and tweet your links to @lifeloveanddd @sillymummy88 using #FridayFrolics for a RT.
The Linky will open at 8pm on Thursday evening, and close at 11pm on Sunday.

Now, on with the linky…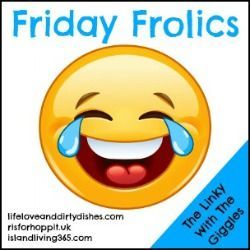 Loading InLinkz ...