Welcome to Friday Frolics, the linky with the giggles. Friday Frolics is hosted by myself, Claire at Life, Love and Dirty Dishes, and Emma at Island Living 365. It's the place to link up your funny posts and snort your tea whilst enjoying some others.
Thank you so much to everyone who linked up last week. There was a regular cornucopia of witty, giggle-worthy posts. This week, Emma is on holiday, so the linky is hosted by Claire and me.

Friday Favourites
My favourite post from last week: Mess, Stress and Fancy Dress – Code Brown, Code Brown!!!!! Helen's hilarious account of the horrors of potty training. Following a Code Brown situation in Matalan, she issues a stark warning to all to respect Poo o' Clock.
Claire's favourite post: 'Five Little Doves – Oh I Do Like to Be Beside the Sea…Part Two. I am a big fan of Laura's blog. Her writing makes me laugh and makes me cry and often in the same post. I could completely relate to Laura's holiday post. Holidays with kids never quite go to plan and are full to the brim with the complete spectrum of human emotion. I have yet to holiday with the kids where I haven't shed both tears of frustration and complete happiness.'
Emma's favourite post: 'Turning Up In Devon – Village Survival, a Colourful (Parental) Visit. This terrifically clever tale had me in stitches. The tale is brilliantly linked together by Farrow and Ball paint (yes really), and recounts what happened when her parents came to stay. I am convinced that we share parents, I too have a dad obsessed with pruning bushes! I need to see these tales in book form. Give her a book deal! '

Most Read Post
This Little Sprogblog – Beware the Domestic Bomb of Shittiness

If you missed these posts last week, do check them out – guaranteed a laugh.
Friday Favourites writers: Please feel free to grab the Featured Blogger badge below.


I am looking forward to all the fun and frolics, but first for a couple of serious bits.
The Rules:
1. Make us laugh! Friday Frolics is all about the funny, so please no reviews, or how to make a finger puppet (unless, of course, they are hilarious).
2. Include the Friday Frolics badge in the post that you are linking. If you do not include the badge, you will not be eligible to feature as a Friday Favourite.
3. Comment on one of each of the hosts' posts, and at least one other post for every post you link up. Share the fun people! Use #FridayFrolics when you comment on posts so people can see where you are linking from.
4. You can link up to 2 posts, old or new.

Other Stuff:
By joining this linky, you consent to receiving e-mails from me about Friday Frolics.
Follow us on twitter and tweet your links to @lifeloveanddd @sillymummy88 using #FridayFrolics for a RT.
The Linky will open at 8pm on Thursday evening, and close at 11pm on Sunday.

Now, on with the linky…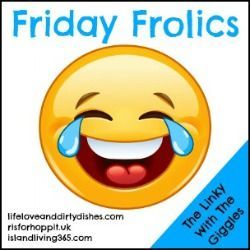 Loading InLinkz ...