Welcome to Friday Frolics, the linky with the giggles. Friday Frolics is hosted by myself, Claire at Life, Love and Dirty Dishes, and Emma at Island Living 365. It's the place to link up your funny posts and snort your tea whilst enjoying some others.
Thank you so much to everyone who linked up their funny posts last week. We had a fantastic selection of giggle-worthy posts.
Apologies that I am a bit behind on last week. I have been moving house and it has been more chaotic than anticipated!

Friday Favourites
My favourite post from last week: The Single Swan – Net-curtain-gate: Spying Spinster Strikes Again. Pen is discovering watching the neighbours is better than a soap opera, and suggests the flats overlooked by the Tate viewing gallery embrace the situation and take up performance art.
Claire's favourite post: 'Mummy Muckups – My Bogus Bucket List. Anna's post really made me laugh. Such a great way of looking at a bucket list, and proof that parenting really does change everything!'
Emma's favourite post: 'Single Mum Speaks – An Interview With Sir Topham Hatt. Anyone who is a parent will know Thomas the Tank Engine and, therefore, will love this very cleverly written post. Hats off (sorry, not sorry) a brilliantly bonkers post! '

Most Read Post
Slouching Towards Thatcham – If Christina Aguilera Had Written Beautiful as a Halloween Parody Song

If you missed these posts last week, do check them out – guaranteed a laugh.
Friday Favourites writers: Please feel free to grab the Featured Blogger badge below.


I am looking forward to all the fun and frolics, but first for a couple of serious bits.
The Rules:
1. Make us laugh! Friday Frolics is all about the funny, so please no reviews, or how to make a finger puppet (unless, of course, they are hilarious).
2. Include the Friday Frolics badge in the post that you are linking. If you do not include the badge, you will not be eligible to feature as a Friday Favourite.
3. Comment on one of each of the hosts' posts, and at least one other post for every post you link up. Share the fun people! Use #FridayFrolics when you comment on posts so people can see where you are linking from.
4. You can link up to 2 posts, old or new.

Other Stuff:
By joining this linky, you consent to receiving e-mails from me about Friday Frolics.
Follow us on twitter and tweet your links to @lifeloveanddd @sillymummy88 using #FridayFrolics for a RT.
The Linky will open at 8pm on Thursday evening, and close at 11pm on Sunday.

Now, on with the linky…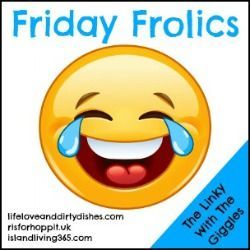 Loading InLinkz ...