Welcome to Friday Frolics, the linky with the giggles. Friday Frolics is hosted by myself, Claire at Life, Love and Dirty Dishes, and Emma at Island Living 365. It's the place to link up your funny posts and snort your tea whilst enjoying some others.
Thank you so much to everyone who linked up their funny posts last week. We had a fantastic selection of giggle-worthy posts.
The big news of the last day and a half for me is: I have a computer. I repeat I have a computer. It works and everything. I even wrote a post. This week, due to not having to do it on my phone, I will be able to see more than 1/10th of the linky at a time. It's all very exciting.

Friday Favourites
My favourite post from last week: Absolutely Prabulous – What Really Happened at the MAD Blog Awards 2016. Prabs hit the UK in her own inimitable style, and here is the hilarious account. Passport issues, visible bras, removal from public transport against her will, and inadvertant pranking of the knock on a door and hide behind a bush kind – it's all there!
Claire's favourite post: Twicemicrowaved Tea – Bake Off? I Can Do That! I always feel a sense of solidarity when someone has a Pinterest fail. Karen's final cake looked awesome, but it took some blood, sweat and tears!'
Emma's favourite post: 'You the Daddy – Paternity Leave: A Mr Men Guide for New Dads. This Mr Men guide is inspired. A must read for all new dads. In fact the NHS needs to be giving this out with those Bounty packs in the hospital. I might not have a newborn but I could do with a Mr Maid to help me out!'

Most Read Post
Mummy Muckups – Mummy Bloggers Over?

If you missed these posts last week, do check them out – guaranteed a laugh.
Friday Favourites writers: Please feel free to grab the Featured Blogger badge below.


I am looking forward to all the fun and frolics, but first for a couple of serious bits.
The Rules:
1. Make us laugh! Friday Frolics is all about the funny, so please no reviews, or how to make a finger puppet (unless, of course, they are hilarious).
2. Include the Friday Frolics badge in the post that you are linking. If you do not include the badge, you will not be eligible to feature as a Friday Favourite.
3. Comment on one of each of the hosts' posts, and at least one other post for every post you link up. Share the fun people! Use #FridayFrolics when you comment on posts so people can see where you are linking from.
4. You can link up to 2 posts, old or new.

Other Stuff:
By joining this linky, you consent to receiving e-mails from me about Friday Frolics.
Follow us on twitter and tweet your links to @lifeloveanddd @sillymummy88 using #FridayFrolics for a RT.
The Linky will open at 8pm on Thursday evening, and close at 11pm on Sunday.

Now, on with the linky…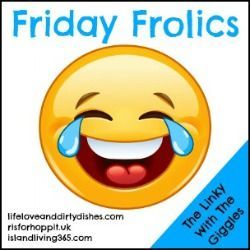 Loading InLinkz ...