I am very excited that the amazing Agent Spitback has allowed me to co-host her lovely #PasstheSauce linky with her. Behold: my first linky post!
The Toddler is, of course, also very excited. ('I want to try a link up! I'm thinking about doing link ups. Mummy, you can you do your link up while I'm thinking about doing my link up. I think I'll do it next week.' Agent Spitback? New co-host for you next week? Very enthusiastic.) Granted, The Toddler does not know what she's excited about, but she is not one to let that get in her way, and is excited nonetheless. The Baby is also very excited, as long as The Toddler suggests it to her. Anything I suggest to The Baby tends to be met with: 'No!' Unless it's biccys.
The Toddler, The Baby and I* are very much looking forward to reading all the wonderful posts we know will be linked up. Therefore, without further ado…except for a few rules (no ado, some rules)…oh, and some featured posts (no ado, a little fanfare, some rules)…let's get on with the linky.
(*Admittedly, this may mostly be me. All attempts by The Toddler to read your posts are likely to result in an announcement that they say: 'Dear The Toddler…' The Baby believes all writing says 'cake'. Agent Spitback may agree with her on that one.)


The Gospel According to the Agent informs us:
'#PasstheSauce Linky, like all the sauces in the world, welcomes all sorts of posts, from crafts, reviews, rants, DIY, parenting, stories, poetry, humour, just about anything and everything. Remember this is all about community and spreading the #blogginglove.
So dust off those cake crumbs, please comment on the Host post, the Guest Co-Host and the post before yours, and of course any other posts you would like to read and comment. If you do not put the badge or comment, you will not be eligible in being featured. It is not about the linky, it is all about the community. You can't blog alone!'


The Most Viewed Post Winner
Our most viewed post Winner this week is Domesticated Momster – Marriage Does Not Work on Auto-Pilot!
Congratulations, Trista, please take your badge crown!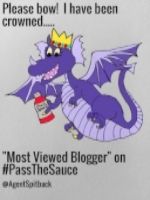 #PasstheSauce Picks of the Week
The Agent's Picks :
1. Domesticated Momster – Marriage Does Not Work on Auto-Pilot – This is a first! Most Viewed & Featured Blogger For #PasstheSauce, but this post is definitely a must read. Trista writes honestly about what a marriage is really about – work, lots of work. But along with that reality, comes the realisation that there is also love. It is no surprise to me that Trista is the first to be Most Viewed and Featured Blogger – the post is well worth a read.
2. We Forgot The Sperm – Give Elsa a Girlfriend – This is a brilliant post about the latest twitter trending, #GiveElsaAGirlfriend, and Laura's take on this. She says brilliantly – "Why can't we just leave it there? Why can't Elsa's story be that she doesn't "need" romantic love?" I loved Frozen precisely because it was about sibling love.
Rhyming With Wine's Picks :
1. 1 week to 30 – A Look Back on My 20s – A fantastic post by "Our Rach", which tells the story of her twenties: the ups and downs, the hairstyles (*keeps a straight face*) and the lessons learned. Happy birthday! Welcome to the cool side of 30! This is where the best cake is at!
2. This Mum's Life – I'm Better Than A Disney Parent – I laughed all the way through this one, and was particularly impressed by the expert knowledge of Julie Andrews' characters and story lines. I must admit that I will never quite watch either of these two particular legendary films again in quite the same way. Just fantastic! Please pop by and have a read.


The Rules
Please link up ONE post, old or new.
They can be on any subject, except giveaways.
Please use the linky badge on any posts you link up.
Please comment on the post before yours, and also on both host and co-host posts.
Please comment and share the blogging love. You will only receive back what you give out, except for Cake.
The linky will run from 11am (GMT) Tuesday to 11am Thursday. We will share any posts that have been tweeted to us using the hashtag #Passthesauce and our twitter names @AgentSpitback and @sillymummy88.
If you link up, you are agreeing to be notified of future link ups.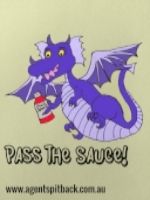 Loading InLinkz ...
I am very excited to have been shortlisted in the 'Writer' category in the BiB Awards. If you've heard of my blog, like my blog, don't want to vote for someone else in my category, aren't sick of people asking, and have a minute to spare, I would love your vote! You can vote here.