Having successfully managed not to actually break the linky last week, I am very pleased that the lovely Agent Spitback has allowed me to co-host her #PasstheSauce linky again this week.
I regret to inform you, however, that both The Toddler and The Baby have been fired from their positions as Mini Co-co-host 1 and Mini Co-co-host 2. They were, frankly, utterly useless last week. They did not pull their weight at all. Not a single post read or commented on between them, not even a whiff of a tweet sent. Disappointing. (On the plus side, I may have finally succeeded in finding the long needed new names for The Toddler and The Baby. Mini Co-co-hosts 1 and 2 has a ring to it, right? No?)
I am very much looking forward to reading your amazing posts. Therefore, following just a few rules and some fantastic featured posts, let's get on with the linky.


The Gospel According to the Agent informs us:
'#PasstheSauce Linky, like all the sauces in the world, welcomes all sorts of posts, from crafts, reviews, rants, DIY, parenting, stories, poetry, humour, just about anything and everything. Remember this is all about community and spreading the #blogginglove.
So dust off those cake crumbs, please comment on the Host post, the Guest Co-Host and the post before yours, and of course any other posts you would like to read and comment. If you do not put the badge or comment, you will not be eligible in being featured. It is not about the linky, it is all about the community. You can't blog alone!'


The Most Viewed Post Winner
Our most viewed post Winner this week is Susan Mann – Starting Nursery and How it Is Going. A lovely post on how her daughter is settling in Nursery. Susan knows how much I love those shoes!!
Congratulations, Susan, please take your badge crown!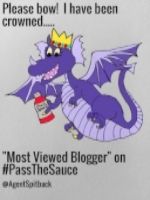 #PasstheSauce Picks of the Week
The Agent's Picks:
1. Double the Monkey Business – The Bedtime Ninja. I'm sure we've all had our own little bedtime ninjas, wriggling into our beds! This is a creative and funny way of telling that story!
2. Handy Herbs – Miniature Peter Rabbit Garden. Sara shows us a fun way to create a miniature garden, Peter Rabbit style, including a little blue jacket and gates. Go and have a peek as my words cannot do her pictures justice.
Silly Mummy's Picks:
1. Mummy in a Tutu – How to Get Noticed as a Blogger…Boobs & Arse. Katie, in conjunction with Catie from Diary of an Imperfect Mother, rules out flashing boobs and arse in favour of blogging for yourself and not comparing yourself to others. Wise words of reassurance for those feeling lost in a sea of blogs.
2. Life is Knutts – The Key to a Happy Marriage in 10 Easy Steps. Gemma provides her hilarious and realistic guide to maintaining a happy relationship. Check it out. And remember not to go overboard with spousal appreciation – a thumbs up will suffice.


The Rules
Please link up ONE post, old or new.
They can be on any subject, except giveaways.
Please use the linky badge on any posts you link up.
Please comment on the post before yours, and also on both host* and co-host posts.
Please comment and share the blogging love. You will only receive back what you give out, except for Cake.
The linky will run from 11am (GMT) Tuesday to 11am Thursday. We will share any posts that have been tweeted to us using the hashtag #Passthesauce and our twitter names @AgentSpitback and @sillymummy88.
If you link up, you are agreeing to be notified of future link ups.
*Important message from the Agent, regarding her linked post:

'I am experimenting this week. FOR MY HOST POST this week, I am linking my Facebook Post as my Host Post — feel free to give a comment (or not), OR a Like (or not), OR a share (or not), OR just laugh (or not)! No pressure here, I am just up to my usual nonsense at testing the boundaries. I just want to do something different, and share posts that I normally do not publish on my blog. If you can't see or comment on the Facebook post for whatever reason, feel free to comment on any of my other posts on my blog.'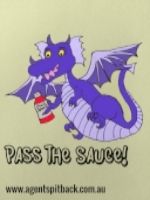 Loading InLinkz ...
I am very excited to have been shortlisted in the 'Writer' category in the BiB Awards. If you've heard of my blog, like my blog, don't want to vote for someone else in my category, aren't sick of people asking, and have a minute to spare, I would love your vote! You can vote here.